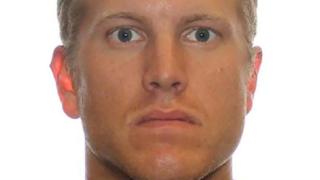 The FBI has arrested three suspected members of a neo-Nazi hate group who planned to travel to a pro-gun rally in Virginia on Monday, reports say.
One was a Canadian army reservist who was fired in August over ties to hate groups and has been suspected missing since, Canadian police told the BBC.
Virginia governor Ralph Northam has declared a state of emergency in the city of Richmond ahead of the rally.
He said law enforcement believed there was a threat of violence.
Governor Northam on Thursday announced a ban guns in the state's Capitol area in Richmond from Friday until Tuesday, citing threats of violence made ahead of the rally. The order also covers other weapons such as knives and sticks.
He said some of the violent rhetoric seen online was reminiscent of that seen before the deadly Charlottesville rally in 2017, at which a 32-year-old counter protester, Heather Heyer, was killed by white nationalist James Fields.
Monday's rally was planned by the Virginia Citizens Defence League (VCDL), a pro-gun-rights group, to protest gun control legislation that is expected to pass in the new year. VCDL said it was expecting 50,000 people to attend the protest.
Democrats won control of the Virginia state legislature last autumn, for the first time since 1994, and have made gun control a key part of their platform, especially in light of last summer's shooting at Virginia Beach, which killed 12.
Mr Northam, who is also a Democrat and has been governor since 2017, tried to get gun control measures passed to no avail this summer, before the election.
The Royal Canadian Mounted Police (RCMP) confirmed that ex-reservist Patrik Mathews was arrested Thursday morning. A spokesperson said that the force would work closely with the US FBI. The FBI was not immediately available for comment.
A reporter from the Winnipeg Free Press first identified Mr Mathews as a member of the right-wing extremist group The Base, identifying violent and hate-filled messages allegedly posted by the reservist in encrypted online chats.
"We're real (expletive) Nazis and they can't do s—- to us but wait for us to put em against the wall," Mr Mathews allegedly wrote.
Police raided Mr Matthews' home shortly after the report and seized a number of firearms.
A combat engineer reservist, Mr Mathews was soon fired from the armed forces and subsequently disappeared. Reports from the autumn said he had still not been located.